When discussing industrial powerhouses in Canada, General Electric (GE) takes center stage with its remarkable operations in Welland, Ontario, and Bromont, Quebec. Over the years, these facilities have shaped the regional landscapes, pumping vitality into the local economies and influencing the national job market with their expansive operations.
Deep Dive into GE's Welland Plant: Industrial Eminence in Ontario
The General Electric Welland plant, an industrial beacon, is strategically located in the Niagara Region of Ontario. This well-placed facility, located at 800 Energy Drive, Welland, ON L3B 5N7, Canada, feeds off the region's thriving engineering talent and the rich manufacturing industry.
The inception of the Welland plant wasn't a decision made overnight. GE identified the untapped potential of the region's resources and skilled workforce, leading to the strategic decision to establish a plant in Welland. The local community greeted this decision with optimism, foreseeing the economic prosperity the plant would bring.
The Operational Brilliance: Welland Plant Today
Today, the Welland plant stands tall as an icon of manufacturing excellence, specializing in the production of power generation machinery. Among its exceptional product line, the Reciprocating Gas Engines stand out. The plant has also embraced digital transformation, implementing GE's Brilliant Factory technology and merging manufacturing with data analytics and software enhancements to optimize productivity.
The Welland plant's influence transcends beyond its physical boundaries. The plant has dramatically enhanced the local infrastructure and living standards, fueled by the high employment rate and the consequent increase in the locals' purchasing power. This contribution to societal development reflects the transformative role that the Welland plant plays in its community.
Unravelling GE's Bromont Facility: Technological Marvel in Quebec
Tucked away in Bromont, Quebec, the GE factory is more than just a production facility. At 41 Boulevard de l'Aéroport, Bromont, QC J2L 1S6, Canada, this factory stands as a monument to GE's relentless pursuit of innovation.
The establishment of the Bromont factory was a strategic move by GE to create a hub for advanced manufacturing. Recognizing Bromont's potential for growth and innovation, GE chose this location for its new factory, a decision that was welcomed by the local community, eager to embrace the opportunities it promised.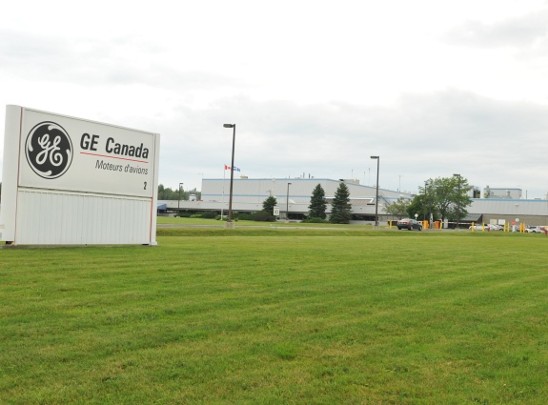 The Bromont Factory: A Technological Powerhouse
The Bromont factory has become synonymous with advanced technological prowess. The factory focuses on producing aircraft engine components, employing automated technologies that enhance productivity while minimizing environmental impact. This dedication to clean production methods signifies GE's commitment to sustainable development.
GE's Bromont factory has played a significant role in shaping the local economy. The factory has created a myriad of job opportunities in engineering, supply chain management, and other fields, thereby diversifying and strengthening the local job market. The positive repercussions extend to the local social fabric as well, contributing to the development of education and recreational facilities, thereby enhancing the quality of life.
GE's Footprint in Canada: A Story of Enduring Growth
GE's Canadian journey is one marked by growth, resilience, and innovation. Over the years, GE has diversified its operations in Canada, ranging from aviation to renewable energy, reflecting its robust commitment to the nation's industrial development.
While the Bromont factory significantly contributes to GE's aviation sector in Canada, it doesn't tell the whole story. GE's aviation influence spans across the country, from production facilities to research centers, creating an intricate web of job opportunities in this thriving sector.
Beyond Welland and Bromont: GE's Nationwide Impact
From the GE Aviation Systems facility in Mississauga to the GE Renewable Energy center in Quebec City, GE's operations ripple across the country. These facilities add yet another dimension to GE's contribution to the Canadian job market, fostering a network of skilled professionals across various sectors.
Career Opportunities at GE's Canadian Facilities
GE's facilities in Welland and Bromont offer a broad spectrum of career opportunities. From entry-level technician positions to managerial roles, GE nurtures talent at all levels, fostering a diverse and inclusive workforce that drives the company's innovation.
The presence of GE in Welland and Bromont has stimulated growth in both the manufacturing and technology sectors. This has led to a surge in job opportunities in these regions, altering the local job markets and positioning these areas as desirable destinations for industrial professionals.
GE's wide-ranging operations across Canada play a key role in driving the country's industrial growth. By providing a vast array of employment opportunities, GE has been instrumental in shaping the overall job market, placing Canada as a global competitor in industrial talent.
Reflecting on GE's Canadian Journey and Gazing at the Future
Looking back, the transformative impact of GE's operations in Welland and Bromont is evident. These facilities have served as catalysts for economic development and job creation, significantly contributing to the improvement of living standards and societal progress.
Across the length and breadth of Canada, GE's influence is palpable. Its robust operations have not only resulted in job creation but also in technological advancement, pushing the boundaries of what's possible and contributing to Canada's industrial prowess. With an unwavering commitment to growth and innovation, the future of GE in Canada looks promising. As GE continues to expand its operations in Welland, Bromont, and beyond, the potential for job growth and economic development is immense. The journey of GE in Canada is far from over; in fact, it's poised for greater strides in the years to come.